Security Window Films
Impregnable

Security

Window Films
Commercial Window Films
From severe weather and terrorism to burglary and vandalism, threats to human safety and property these days are on the rise. Which is exactly why the extra layer of protection that Solar Gard Armorcoat® safety and security window films provide is such a valuable addition to your building.
Specially designed to absorb shock and hold shattered glass in place, Armorcoat® not only protects people from flying shards, but also provides a barrier against break-ins, bomb blasts, looting and interior damage. To provide inexpensive protection against everything from glass etching to spray paint, Solar Gard Graffitigard® is specially designed to apply in removable layers or to be easily stripped and reapplied when tagged.
Solar Gard Armorcoat safety films keep shattered glass intact and protect building occupants.
Anything from a stray golf ball to a violent storm can send dangerous shards of glass flying, subjecting people and property to serious damage, injury or worse. Armorcoat safety films help keep dangerous shards together on impact, whether due to accidents, severe weather, attempted break-ins, vandalism or bomb blasts.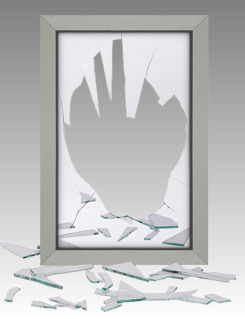 Without Window Film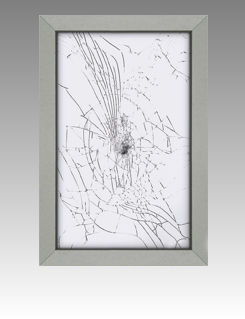 With Window Film
Domestic Window Films
Your home is more than just a place for possessions. Which is exactly why it's worth protecting from anything and everything that can do it harm — accidental or not. Specially designed to hold shattered glass in place, Solar Gard Armorcoat® does more than just protect you and your family from flying shards, it also provides a deterrent barrier against burglary and storm damage — giving you peace of mind that you, your loved ones and your valuables are safe and protected.
Anything from a child's ball to a violent storm can send dangerous shards of glass flying, subjecting your family to injury and your home to serious damage. Armorcoat safety films help keep dangerous shards together on impact, whether due to accidents, attempted burglary Untreated or severe weather.
Enhancing Impact Performance with Safety and Security Film
Solar Gard Armorcoat films help shore-up a commercial and residential structure's glass windows, providing an additional shield against breakage and the damage that can result. Applying safety and security films can make the difference between being able to utilize existing window systems and having to replace them at great expense. Film can bring ordinary glass into compliance with a number of recognized U.S. and European safety standards, which make annealed glass as safe as tempered glass.
Impact Standards
Impacts that causes glass to break is categorized into five basic types:
1. Human impact (accidental)
2. Breaking and entering
3. Extreme weather (hurricane)
4. Bomb blast
5. Ballistic
There are standards for each type of impact to determine whether or not glass will break and, if it does, the effect of the break. Specific film characteristics determine safety and security performance. These characteristics and approved methods used to assess performance are:
- Tensile Strength and Elongation (ASTM D882)
- Break Strength (ASTM D 882)
- Tear Resistance (Graves — ASTM D 1004)
- Puncture Resistance (ASTM D 4830)
How Impact Performance is Determined
1. Human Impact
The prevailing standard in Europe is the EN 12600, which is very similar to the U.S. standard, except the impact is provided by a "twin tyre" impactor rather than a punching bag. EN 12600 uses a rating system of 1 to 3, with 1 being the highest rating and 3 being the lowest, rather than a pass/fail system that defines drop height and type of break.
| Drop Height | Breakage Type |
| --- | --- |
| Class 1 - 1,200 mm | Type A - Annealed glass |
| Class 2 - 450 mm | Type B - Laminated glass |
| Class 3 - 190 mm | Type C - Toughened glass |
On 4 mm and 6 mm glass, Solar Gard Armorcoat films achieved the following EN 12600 ratings:
4 mil - 2(B)2 !
7 mil - 2(B)2 |
8 mil - 1(B)1 |
10 mil - 1(B)1 |
14 mil - 1(B)1
Using the rating of 2(B) 2 for 4 mil window film as an example, 6 mm annealed glass with Solar Gard Armorcoat film installed achieved Class 2 (450 mm drop height), Type B (laminated glass) with the final 2 indicating the maximum drop height (Class 2,450 mm) where no penetration occurred.
2. Breaking and Entering
Law enforcement will tell you that a "smash and grab" thief gives himself 20 to 30 seconds to break a window, enter the building and then flee. Safety and security film holds the shattered glass in place, impeding the intruder's entry. With his timing off, the thief typically gives up on his efforts and leaves the scene.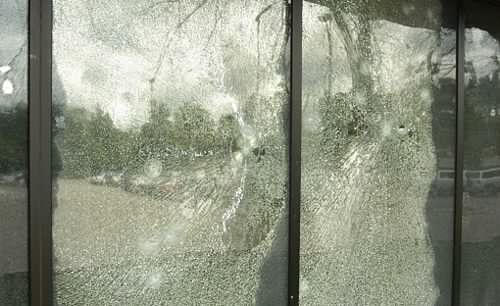 Window Film Across Large Panes
3. Extreme Weather
Safety and security window film can mitigate damage that results from extreme weather conditions. In the US, hurricane resistance standards consist of firing missiles, large and small, into a glass specimen to determine if it can withstand the impact and then subjecting the impacted specimen to region-specific cycles of static air pressure.
The large missile used in testing is a 2" by 4" piece of timber of weight ranging from 4 lbs. to 9 lbs. and fired at speeds of 40 fps (feet per second) to 80 fps. Small missiles are 10 2-gram steel bearings fired at 130 fps. Impacted specimens receive cycles of air pressure ranging from 50 to 100 lbs. psf, depending on the specific region, or windborne debris zone, for which the specimen is being tested.
4. Bomb Blast Mitigation
When glazings need to be brought up to the published requirements for blast protection, window film is a more economical and time-saving solution. The current standard for blast mitigation in the U.S. is the GSA Standard Test Method for Glazing and Glazing Systems Subject to Airblast Loading, a modified version of ASTM 1642-96.
In Europe, the International Standards Organization (ISO) 16933 standard is similar to the GSA. At this time, rather than testing to the European standards, the majority of film manufacturers test to GSA, which is generally accepted throughout the world.
There are four GSA levels of protection for buildings —A, B, C and D. with A the lowest protection and D the highest. The levels determine what steps must be taken to protect a building from damage and injury to employees in the event of a blast. A and B levels represent protection for low-risk structures and aren't mandated or controlled.
Solar Gard Armorcoat film has demonstrated blast mitigating properties at Level C and Level D. GSA requires the creation of overpressure and impulse on the specimens with either an open air explosion or shock tube, achieving:
Level C — Overpressure of 4 psi and Impulse of 28 psi, milliseconds
Level D — Overpressure of 10 psi and Impulse of 89 psi, milliseconds
Solar Gard Armorcoat films are rated effective for Level C protection in gauges from 4-Mil to 14-Mil with "daylight" applications and attached systems. Solar Gard Armorcoat 14-Mil film with a four-sided mechanical attachment system is rate effective for Level D protection.
Performance
To be considered effective for blast mitigation by GSA standards, the filmed glazing must achieve a performance condition of 4 or better, with 5 being failure. The performance conditions are as follows:
| Condition | Glazing Response |
| --- | --- |
| 1 | No break |
| 2 | Break — no particle entered structure |
| 3-A | Break — no particle entered structure more than 1 meter (3.3 feet) |
| 3-B | Break — no particle entered structure more than 3 meters (10 feet) |
| 4 | Break — particle struck witness panel at 10" but no higher than 24" above floor |
| 5 | Failure — particles enter structure and strike witness panel above 24" |
Solar Gard Armorcoat GSA performance ratings are as follows:
- 4-mil film: 3-B Daylight applied
- 8-mil film: 3-A Wet glazed to the frame with Dow 995 structural sealant
- 14-mil film: 3-A Mechanically anchored.
5. Ballistic
Presently, there are no films installed on glass less than ½" in thickness that provide adequate ballistic resistance. Film can, however, improve the ballistic resistance of glass where ballistic resistance already exists.
There are a number of standards used for ballistic resistance testing. Some of the most commonly used are:
UL-752 (Underwriter's Laboratories)
NIJ-STD-108 (National Institute of Justice)
CEN-1063 (Europe)
HPW-TP-0500 (H.P. White Laboratory)
All of these standards consist of firing various caliber bullets at glass specimens from a range of 25" with a witness panel behind the specimen to see if impact occurs. Based on the thickness of the glass and film application, certain Solar Gard Armorcoat films meet standards of HPW-TP-0550.02. Contact your Bekaert representative for test results.
Summary
By testing to standards for human impact, breaking and entering, extreme weather, bomb blast, and ballistic impact, Solar Gard Armorcoat can demonstrate the effectiveness of our safety and security films, offering customers a cost-effective solution to protect people and interiors. For explanations or more information regarding tests or test results, contact your Solar Gard Armorcoat representative.